This month we focus on walks and outdoor activities around our three Yorkshire Dales properties of Skeldale House, Aysgarth Nook and Nydsley Hall in the beautiful villages and towns of Askrigg, Aysgarth and Pateley Bridge.
The Yorkshire Dales is a stunning area of natural beauty, with rolling hills, rugged moorland, and idyllic valleys. There are many fantastic walks and things to see in the area, and in this blog we will explore some of the best walks and outdoor activities within a short distance of Askrigg, Aysgarth, and Pateley Bridge.
Askrigg – home to Skeldale House
Askrigg is a charming village located in the heart of Wensleydale. It is a popular base for walkers and outdoor enthusiasts, with lots of fantastic walks starting right from the village. Here are some suggestions, along with a couple of local places of interest for more leisurely days out.
Askrigg Falls and Mill Gill Force Walk
This circular walk starts right outside the front door of Skeldale House and takes you through the village of Askrigg and up to Mill Gill Force, a picturesque and largely undiscovered waterfall. The walk is around three miles long and takes around two hours to complete at a leisurely pace.  Mill Gill Force and Whitfield Gill Force Waterfalls Walk (walkingenglishman.com)
Askrigg to Carperby Walk
Another circular walk starting from Skeldale House. This one is a bit longer at nine miles, so we suggest allowing four to five hours. Along the way you will see some of the most beautiful countryside in the whole of the UK, heading out along a high-level path in Upper Wensleydale and returning alongside the tranquil River Ure. A stop halfway round for refreshments at the Wheatsheaf Inn at Carperby is a popular choice!  Askrigg and Carperby walk | The Westmorland Gazette
Yorkshire 3 Peaks
If you are looking for an all-day challenge to take on, the Yorkshire 3 Peaks, starting at Ribblehead Viaduct, is an easy half hour drive away from Skeldale House. 24 miles long, with more than 5,000 feet of climbing makes this a serious all day hike. You need to be prepared for some challenging terrain and changeable weather, and take plenty of food and drink to get you through the day. You can expect to take around 10 hours to complete the route so please make sure you set off early so you don't run out of daylight. The route is well marked and the sense of achievement when you've completed it is something which will stay with you for a very long time. Yorkshire Three Peaks Challenge route
Wensleydale Creamery
One of the nation's most well-known cheeses, and the firm favourite of Wallace and Gromit! Take a walk around the free cheese tasting experience, have some lunch in the coffee shop and take home a little something from the gift shop. Wensleydale Creamery – Artisan Cheese, Gifts & Hampers
1783 at the Burgoyne
If it's fine dining which takes your fancy, 9 miles out of Askrigg is the wonderful 1783 restaurant at the Burgoyne. Located in the village of Reith, you can find award winning food lovingly prepared with the finest seasonal, home-grown Yorkshire produce in breath-taking surroundings. Enjoy Seasonal Local Food At The 1783 Restaurant In The Yorkshire Dales | The Burgoyne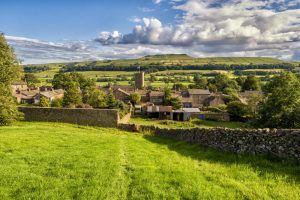 Aysgarth – home to Aysgarth Nook
Aysgarth is a picturesque village located in the heart of the Yorkshire Dales. It is famous for its amazing waterfalls, which have been featured in many films and TV shows.
Aysgarth Falls Walk
This walk takes you to the famous Aysgarth Falls, a series of three stunning waterfalls which have inspired poets and painters across the centuries. The walk is around two miles long and takes about one hour to complete. Along the way, you will enjoy stunning views of the falls and the surrounding countryside. Aysgarth Woods and Waterfalls Circular: 490 Reviews, Map – North Yorkshire, England | AllTrails
Circular Walk via Aysgarth Falls and Bolton Castle
This walk takes you from Aysgarth to the nearby village of Castle Bolton with its castle ruins and landscaped gardens. It is around six miles long and takes about three hours to complete. Along the way, you will pass through some picturesque countryside and enjoy stunning views of the castle and the surrounding countryside. Circular walk from Aysgarth Falls via Castle Bolton | Walks in Yorkshire (daleswalks.co.uk)
Bolton Castle
One of the country's best preserved medieval castles, originally built as one of the finest and most luxurious homes in the land, the castle bears the scars of over 600 years of fascinating history. A great trip for history lovers, or a place to spend the day at with your family, with falconry experiences, a fabulous tea room and beautiful gardens. Bolton Castle in Wensleydale, family days out, falconry and weddings
Pateley Bridge – home to Nydsley Hall
Pateley Bridge is a charming small market town located in Nidderdale, an area of outstanding natural beauty. A wonderful place to explore the quaint local shops, local cuisine and Nidderdale Museum, as well as the many local walks.
Brimham Rocks Circular Walk
Starting in Pateley Bridget, this circular walk takes you to Brimham Rocks, an amazing collection of strange and unusual rock formations. The walk is around nine miles long and takes four to five hours to complete, plus however long you want to spend exploring Brimham Rocks. Along the way, you will enjoy stunning views of the rocks and the surrounding countryside. Pateley-Bridge-Circular-Nidderdale-AONB.pdf (nidderdaleaonb.org.uk)
Ladies Riggs and Ashfoldside Trail Circular Walk
This lovely five mile walk around Ladies Riggs and Ashfoldside is one of a series of trails offering the chance to enjoy the contrasting landscapes and fascinating heritage that make Upper Nidderdale such a special place. Along this route you will walk through the abandoned industrial landscape around Prosperous Smelt Mill, enjoy the secluded beauty of Ashfoldside Beck and take in the atmospheric Ladies Riggs and Bale Bank. Expect it to take about three hours.
Ripley Castle
Ripley Castle and Gardens, is just 20 minutes' drive from Pateley bridge. Take a guided tour of this beautiful castle, enjoy the wonderful gardens, and take a stroll in the deer park. Finish your visit with lunch or afternoon tea in the Castle Tearoom.  Ripley Castle and Gardens – Harrogate, North Yorkshire
Whether you are looking for a short stroll, a couple of hours' walk, an all day hike, or just somewhere to explore and enjoy, there is so much to choose from when staying in our exquisite Yorkshire Dales holiday homes. And at the end of the day you can look forward to returning to your very own luxurious accommodation to relax and unwind before a great night's sleep in our super comfy beds. Book now and start looking forward to your perfect holiday in the Yorkshire Dales.Locations – Maison Parfaite (maison-parfaite.com)