There's not many places you can visit for free these days!  We visited the incredible National Railway Museum recently and had the most amazing time. Not least because it is only about ten minutes walk away from Maison Parfaite YO1!
Entry is free of charge, however you can give a voluntary donation which we highly recommend as it is such an amazing place to visit, and you can easily spend many hours there. However if you are on a tight budget it really is an exceptional way to spend a day with the kids for little or no money!
There are two enormous buildings packed full of historic steam locomotives and trains and rolling stock going back to the world's very first carriages that were in regular service between Manchester and Liverpool. Most notably – and who wouldn't be interested to see – the magnificent Royal Trains and luxuriously appointed carriages belonging to every monarch from Queen Victoria through to The Queen Mother and Queen Elizabeth II.
There is a lovely coffee shop nestled between the royal carriages, with the platforms decked with vintage trunks, clocks, union jacks and other memorabilia evoking the ambience of the Victorian era. Visitors at the weekend will be greeted by a large compliment of enthusiastic hosts dressed in period clothing who are delighted to have their pictures taken with visitors.
I was impressed not only with the incredible condition of the locomotives and carriages, but also by the spotlessly clean platforms and the helpfulness of all the staff who are on hand to offer information and directions.
The height of the platform allows the visitor a perfect opportunity to see inside the perfectly preserved carriages, and imagine the comfort and fine furnishings enjoyed by generations of the Royal Family.
Interestingly, the most modern rolling stock belonging to The Queen Mother and Queen Elizabeth II is far more austere and practical. Of course they provide a lot of space to relax than most people would ever experience themselves! Each Royal carriage has a white flag suspended by it to show which monarch they were built for, and discrete information plaques tell interesting stories about their history and use.
The Royal Mail rolling stock is open to enter and gives you a good idea of how busy life would be aboard these trains as they thundered up and down the country, sorting post as they went. They also had ingenious machinery which would swing out as they sped past collection points along the route where they could drop off and collect heavy mail sacks!
The museum is excellently curated and exhibits such as this and the medical carriages (in the main hall) are well displayed and lit to imagine the conditions on board for the workers during these times
Beyond this hall there is a spacious outdoor area with steam trains which are operable, a childrens play area and other exhibits. At the time of our visit there was major refurbishment to one of the other large halls which looked like it will provide more examples of the ticket offices and other station facilities dating back to Victorian times, when the railways were just starting to evolve. We will definitely loom forward to visiting again soon to see the new exhibits.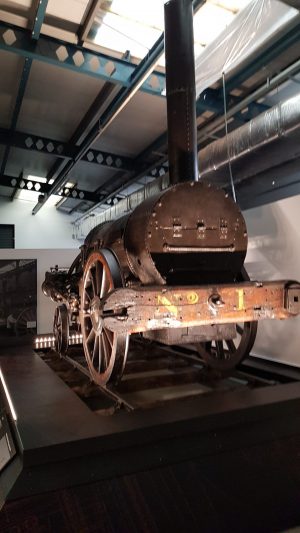 Venturing towards the second and largest of the halls, there is a temporary exhibition area. We were very fortunate to see Robert Stephenson's Rocket, which was the forerunner of steam locomotives for the next 150 years, winning a major design competition in 1829 to find a fast and reliable way to transport goods and passengers faster and cheaper than the horse drawn carts which would have been the only option to travel long distances until the introduction of the railway network.
There have been differences in opinion on who should be given the credit for designing Rocket. George Stephenson had designed several locomotives before but none as advanced as Rocket. At the time that Rocket was being designed and built at the Forth Banks Works in Newcastle Upon Tyne, he was living in Liverpool overseeing the building of the Liverpool and Manchester Railway. His son Robert had recently returned from a stint working in South America and resumed as managing director of Robert Stephenson and Company.
Access to the main hall is via a link tunnel which may prove difficult for some visitors as there are a quite a few steps. It is worth it though as this hall is filled with every conceivable type of train from the very first passenger carriages, where you can see that the shape is borrowed directly from the typical stage coach carriages they replaced! to the Mallard, Flying Scotsman, The Japanese Bullet train and the first generation of channel tunnel trains.
Outside this hall is a pleasant piazza area with space to sit outside. at the end of this square is a beautiful vintage carriage where can dine in style, either for lunch or afternoon tea. The gallery below shows in pictures some of the awe inspiring machines that changed our world.